Ajuga reptans Bugle CC DD N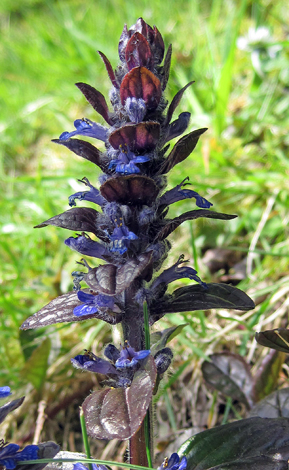 This is usually a Spring flower of shade or woodland areas but can also be found in open dune systems too. Typically the leaves I see are bronze coloured although Stace reckons the "copper" coloured plants are a cultivar. In the shade they are not easy to see without flowers. It tends to grow in patches which have formed via their stolons (hence "reptans which meaning creeping). It is about 20 to 30 cm tall and varies in obvious hairiness but this square stemmed plant is hairy on only opposite two of the four sides sides.
It is found throughout the British Isles and is common even in the far north of Scotland.
Claggan Park, Fort William FC, 28th April 2012
Added on November 10th 2004, updated March 9th 2008, updated 21st June 2008, updated Feb 22nd 2010, updated 4th May 2012