Avena fatua Wild Oat CC DD N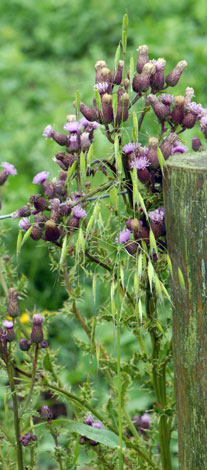 The Avena fatua is the plant in front of flowering Cirsium arvense (Creeping Thistle) which in spite of being in the background, dominates the photograph. Just as common at the edge of field is Avena sativa (Oat) which is the commonly sown crop. The long awns of Avena fatua help to distinguish it from Avena sativa.
A. fatua is common throughout England particularly in the south and midlands. It is also found in eastern Ireland and Wales away from the high hills but in Scotland it is recorded mostly from the east.
Edge of field near prawle pont cliffs, 11th July 2009
Added on 3rd October 2009, updated 1st March 2010