Diuris longifolia Purple Pansy Orchid Endemic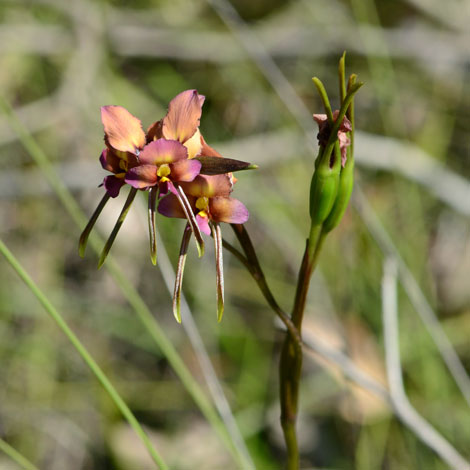 To me anyway, many of these Diuris species (Donkey Orchids) look very similar but fortunately I was given a clue by the owner of the property on whose land it was growing who told me it was a Pansy Orchid. The book to use a reference for these orchids is Orchids of South West Australia by Noel Hoffman and Andrew Brown who seem to have spent a lifetime disentangling the various orchid species in Western Australia.
According to this text, the Pansy Orchid is Diuris magnifica has yellow "ears" and is found in a narrow strip near the coast from near Bunbury to about Kalbarri and that rather rules out this species found near Yornup. The Purple Pansy Orchid (Diuris longifolia) however is found throughout the far south western corner and has distinctly purple "ears" like this one so that has to be favourite.
Donnelly Mill Road, Yornup, Western Australia in private bushland 29th October 2013
Added on November 23rd 2013