Elodea canadensis Canadian Waterweed CCC DD I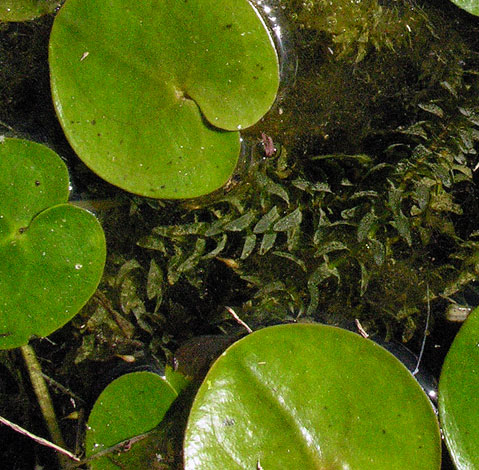 This introduction was first reported in the early 19th century and has become one of the commonest waterweeds you can expect to find in ponds and canals. It can be confused with the more recently introduced Elodea nuttallii (Nuttall's Waterweed) which has more leaves per whorl (about 4) with each leaf being longer and narrower.
In this photo the Elodea canadensis is the dark weed in the middle with light green large, round leaves of Hydrocharis morsus-ranae (Frogbit) rather dominating the view.
This plant is to be found almost everywhere in still waters apart from the far North of Scotland where it is scarce.
Weston Moor Reserve, Near Clapton, Somerset 9th September 2006
Added on 27th September 2006, updated 26th December 2008, updated 29th March 2010