Equisetum x litorale Shore Horsetail C DD N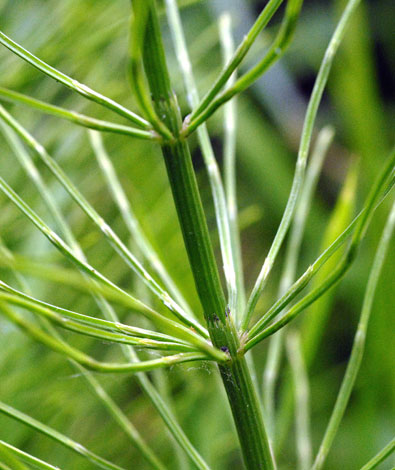 There is no need to limit hunting to the sea shore for the Shore Horsetail as this hybrid between Equisetum fluviatile (Water Horsetail) and Equisetum arvense (Field Horsetail) could be expected everywhere. The parents are very common indeed and aren't necessarily found close to the hybrid. This one was in a damp woodland site and has a quite large cavity in the centre of the stem (derived from the E. fluviatile parent) with a very distinctive long unbranched top (see RHS).
The distribution of this hybrid is what you would expect bearing in mind that the parents are ubiquitous - it is dotted widely throughout Scotland, Ireland, Wales and England.
Sunnyhurst Wood, Darwen, Lancs 7th June 2007
Added on 18th June 2007, updated 2nd January 2009, updated 29th March 2010