Escallonia macrantha Escallonia C DD I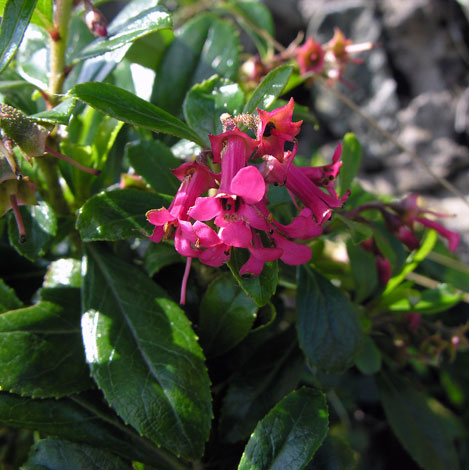 On holiday we observed that this plant was used quite often for hedging throughout the Antrim coastal strip. Old hedges in abandoned gardens can look as though they are natural but this one was facing the sea growing out of the stones on sea wall and so is a rare case of self-seeding. Escallonia is an introduction from Chile and if it does escape it's nearly always near the seaside.
There are scattered pockets of this plant naturalised in England Scotland, Wales and Ireland with the largest concentrations in Cornwall, Lancashire and the Southern Counties of the Irish Republic.
Wall enclosing Cushendun Warren, Northern Ireland 19th August 2006
Added on 27th September 2006, updated 10th Janury 2009, updated 29th March 2010, updated 8th December 2012