Geranium x magnificum Purple Crane's-bill C DD I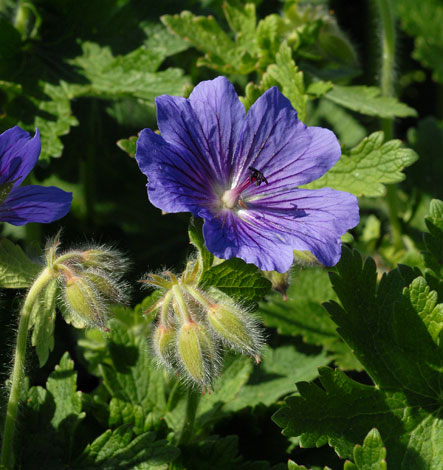 This is a hybrid between G. ibericum (Caucasian Crane's-bill) and G. platypetalum (Glandular Crane's-bill) which is often grown in gardens. At first glance you might confuse it with G. pratense (Meadow Crane's-bill) which is exactly what I did but the leaves are different as are the flowers once you get to see it more often. The confusion has led to it being under-recorded according to Stace.
Although there is hardly any to be found in Ireland, it has established itself in the wild in parts of Scotland and Wales and throughout England particularly in the north west where this one was found.
Near Belmont, Horwich, Lancs 6th June 2007
Added on 28th January 2008, updated 25th January 2008, updated 2nd April 2010