Glaucium flavum Yellow Horned-poppy C DD N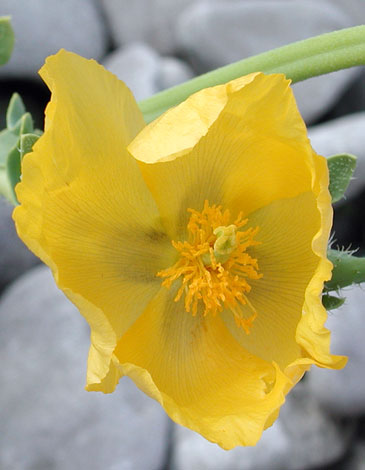 A plant of the shingle, this appears to be increasing in numbers at Pensarn beach Abergele since the sea wall was built some time ago. It has large yellow poppy like flowers, very long seed pods and a beautiful glaucous rosette of leaves when not in flower so can't be mistaken. It isn't a national rarity but it deserves to be one.
Only rarely found inland, G. flavum is common on the coasts of most of England except perhaps for the north east. It is common on the welsh coast and the Irish southern and eastern coasts. It does occur in southern Scot;and but records quickly diminish as you go further north than Dumfries and south Ayrshire.
Pensarn Beach, Abergele, North Wales 18th July 2002
Amended on January 26th 2005, updated 27th January 2009, updated 2nd April 2010