Grevillea dielsiana Diel's Grevillea Endemic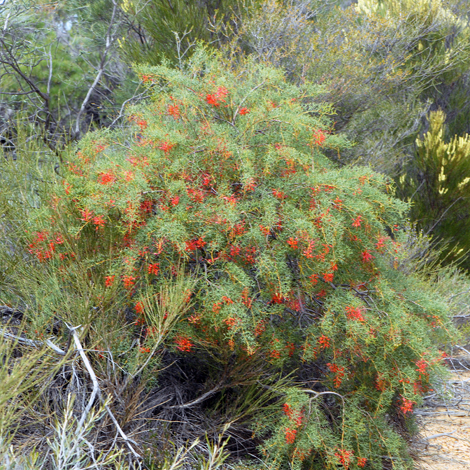 On our conducted trip around the Stirling Range National Park we learned from experts that some of the best concentrations and varieties of plants are to be found on the roadside verges where there is less competition for light and between plants at least on one side. I had observed this in Kalbarri National Park itself and here on the verge of the North West Highway where it goes through the edge of this wonderful natural park. There is no mistaking this place for suddenly the roadside flora changes and becomes more colourful with many shapes and sizes of herbs and shrubs. The only problem is to find a place to park at the edge of such a busy highway.
This Grevillea which is named after Friedrich Ludwig Emil Diels (1874 to 1945) who collected an named many species in his exploration of the flora of Western Australia around 1901. This particular Grevillea can be red, yellow-orange and even pink but at this site the deep red of the flowers was the only colour to be seen. It is found in an area well north of Perth centred around Geraldton on the coastal plain and not very far inland.
Edge of Kalbarri National Park and The North West Highway 5th September 2012
Added on 18th January 2013