Guizotia abyssinica Niger C DD I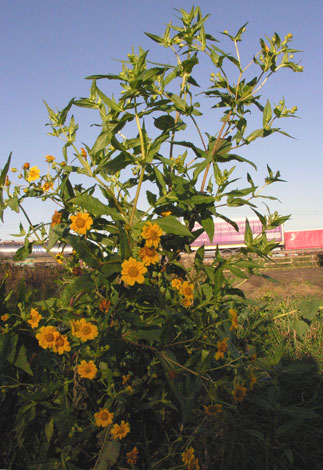 This annual is an East African introduction and is described in Stace as a bird seed alien. Looking for other indications that this was indeed the origin, I found Echinochloa crus-gallii (Cockspur Grass) nearby. There were about 10 plants of G. abyssinica all scattered apart at this site so it will be interesting to see if any appear next year. This plant was one of over 200 which were recorded as part of the Wild Flower Society's last hunt which takes place in the last week of October. I have never recorded such a high number of flowering plants at this time of year before and nor have I found a "lifer" as this one was.
It is found dotted all over southern England with decreasing frequency as you go north so there is little in Scotland or Wales and only one recorded site in Ireland. I suspect that with warmer summers and autumns though that these distribution data are already out of date.
Frodsham marshes by M56, 31st October 2006
Added on 2nd November 2006, updated 2nd February 2009, updated 2nd April 2010