Hieracium carneddorum Carnedd Hawkweed RRR DDD N Welsh Endemic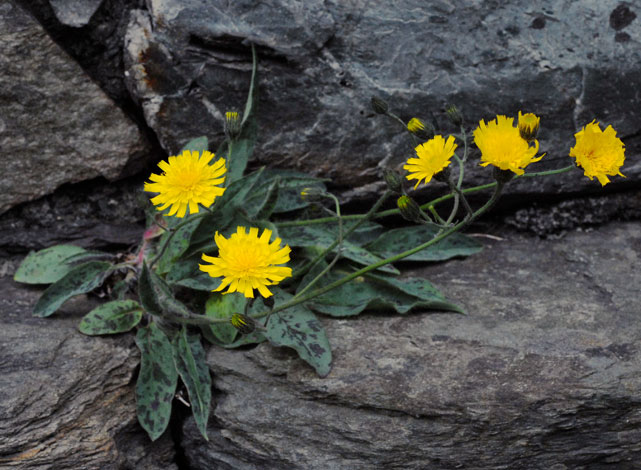 This was a chance find before a Wild Flower Society meeting started as we looked around the car park. There were several hawkweeds to be seen but this one was very distinctive having the purple/brown blotches on the upper surface of the leaves like Hieracium cambricum (Welsh Hawkweed). However the glabrous Hieracium cambricum is not known from this site and the leaves of this plant had numerous hairs near the petioles and long stiff hairs at the margins.
With the help of Peter Sell and Gina Murell's Flora (Vol 4 pp 335) and more importantly the view of one of our nationally distinguished Hawkweed experts, I have found that this one is almost definitely Hieracium carneddorum which has been found at Cwm Idwal before. Obviously to be 100% certain of the identification the plant would need to be seen in situ by an expert which hasn't happened yet but it is very likely to be correct. Please contact me of you believe this I.D. is wrong.
The distribution of this plant is given in the name: it is found in and around the Carnedd mountains and nowhere else so is a North welsh endemic species.
Near Cwm Idwal, Snowdonia, North Wales 1st June 2008
Added on 8th October 2008, updated 6th April 2009, updated 7th April 2010