Limonium britannicum ssp coombense var grandiflora Western Sea-lavender RRR DD N Endemic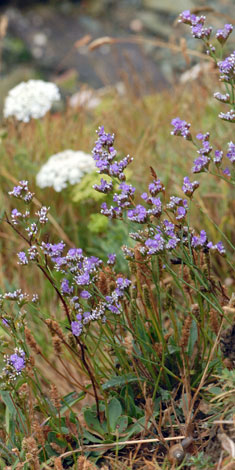 On a typical gloomy English summer day the the coast the many plants we saw of this particular Rock Sea-lavender were waving vigorously in the wind and spitting rain. Just what a photographer wants: poor light and plenty of wind. All L. britannicum sub species are endemic and uncommon but judging by the B.S.B.I. distribution map, I suspected that this plant is a rarer than the generic R rating to which L. britannicum is rated by Professor Stace in Edition 2 of his New Flora of the British Isles and in Edition 3 it now has anRRR rating.
L. britannicum ssp coombense var grandiflora grows only on the Devon and possibly on the north Cornwall coasts and even there in only a very few places. As an English endemic species of which there are few, it grows nowhere else in the world - until the taxonomists lump these Rock Sea lavenders back together again of course.
Prawle Point cliffs, Devon, 11th July 2009
Added on 3rd October 2009, updated SE3 30th June 2010