Malva pseudolavatera Smaller Tree-mallow RR DD N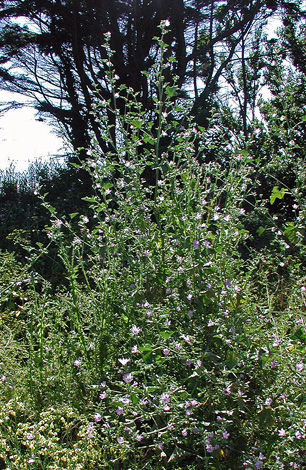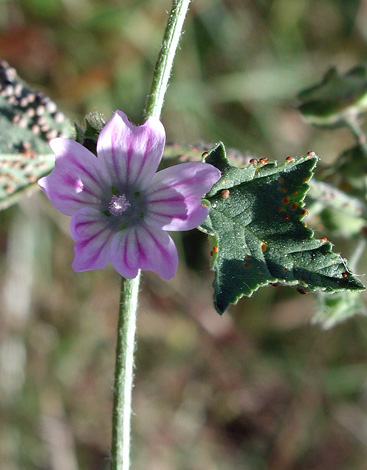 It may be smaller by name but the ones we saw in Guernsey were mostly larger in size than a typical L. arborea. Fully grown L. cretica was over 2 metres tall but with smaller, paler flowers than L. arborea. Where it grows in barren places it still looks healthy but is only 20 to 30cm tall. On Guernsey L. cretica grows in walls, the edges of fields and in waste places generally. Locally frequent is the term used for the distribution of this national rarity which is scarec in England but a weed on Guernsey. Most of the leaves at this site were covered with what seemed to be small rust coloured galls. The photo of the whole plant shows it to be a sparsely flowering species which looks very unspectacular.
L. cretica is common in the Channel islands and on the Scillies but in England there are just a few sites mostly in the south and even fewer in Wales and Ireland. It is not found in Scotland.
Edge of Field, Bordeaux, Guernsey, 19th June 2004
Added in 2005, updated April 1st 2010, updated 13th December 2010