Mentha x verticillata Whorled Mint C DD N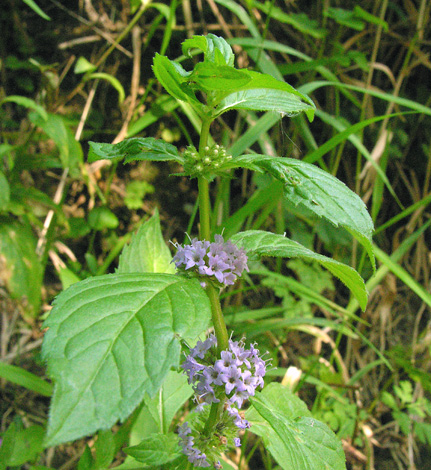 Mints hybridise readily and aren't too easy to identify so I'm grateful to another WFS member who keyed this one out after we'd found it close to the water of the River Wye. This is a hybrid between Mentha aquatica (Water mint) and Mentha arvensis (Corn mint) and as you would expect has some of the characteristics of both parents. Like some hybrids it can be found in the absence of both parents which is odd unless the seed is not only fertile but can be distributed easily - probably by water in this case.
M x verticillata is common in England, Wales and southern Scotland. In Ireland records are more scattered with highest concentrations in the north and south.
Banks of River Wye close to the water, Near Monmouth 6th September 2005
Added on September 15th 2005, updated January 2nd 2011