Minuartia verna Spring Sandwort R DD N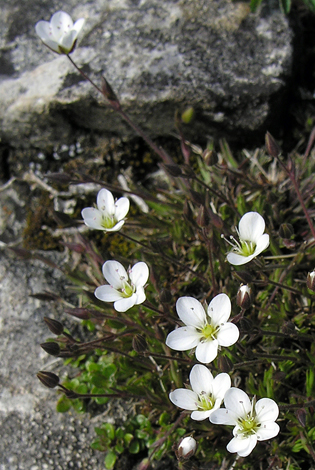 Spring Sandwort often grows in unlikely places. You can find it on slag heaps and in the crevices of rocks. Although nationally scarce, it is quite common in Cwm Idwal and the Great Orme where it might be confused with Saxifraga hypnoides (Mossy Saxifrage) at first glance.
It has a localised distribution with a large concentration in northern England, north Wales and the Peak district but it is scarce in Scotland and most of Wales. In Ireland it is found in the west and north east only.
LHS: Cwm Idwal 5th June 2007, RHS Great Orme 7th June 2005
Amended on January 29th 2005, updated new photos 12th June 2007, updated 3rd January 2011, updated 3rd November 2015