Polycarpon tetraphyllum Four-leaved Allseed RR DD N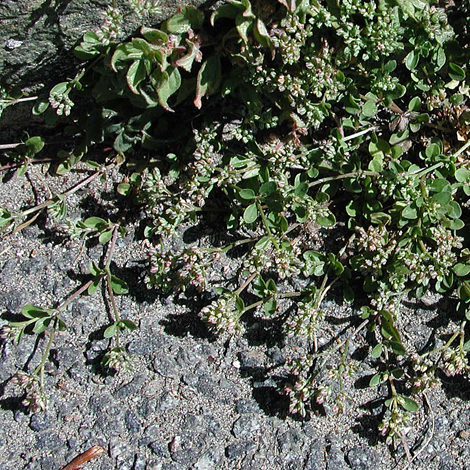 This is another of those native rarities which you could easily miss because of its weedy and unspectacular habit. The flowers are very small, green and white but not always opening very far - they can just about be seen in the RHS photo. Although this plant is very rare nationally, on the mainland on Guernsey we found it many times at the foot of a wall in a street, or on a patch of waste ground.
P. tetraphyllum is dotted in a few places in southern England but the largest concentrations of this rarity are in the far south west of England, the Channel islands and the Scillies. It is not found in Wales or Ireland but one or two sites have in the past been found in Scotland.
Guernsey, St Sampsons Harbour, 18th June 2004
Added on 31st January 2005, updated 17th July 2011, updated 12th June 2017