Polypogon monspeliensis Annual Beard-grass RR DD N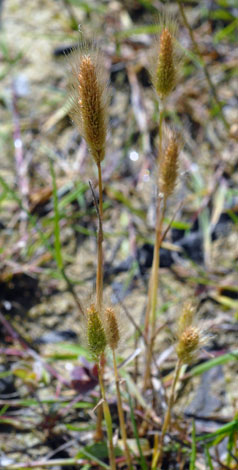 This native was clearly naturalised in an area where it could may well have been brought in on car or tractor tyres. It is a plant of salt marsh type habitats and was growing not far from a tidal river. These specimens were quite small - only 10 cm to 20 cm tall and we only found them whilst on our knees photographing something else.
Polypogon monspeliensis is quite common in the south and east of England with a strong presence around the Severn estuary but it quickly becomes scarce as you go north. There is little to be found in Scotland or Ireland.
Added on 8th February 2007, updated 19th July 2011, updated 8th June 2019