Saxifraga cespitosa Tufted Saxifrage RRR DDD N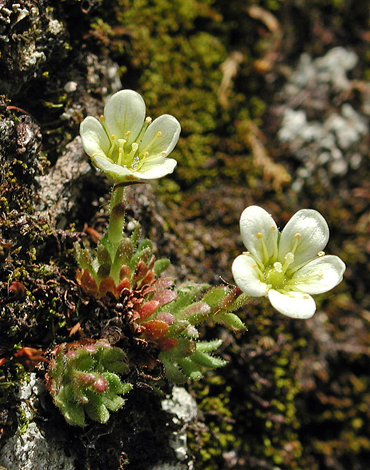 The warden reckons that within five years this plant will have disappeared from its one rock in Cwm Idwal. It's too warm now for alpines like these and you can already see the stronger, more invasive plants which need a warmer climate, beginning to populate the nooks and crannies of the single rock on which it grows. If that happens then only the Highlands of Scotland will be home to this beautiful little alpine saxifrage. I visit this plant quite often and it does seem to me to be growing in different places each time so perhaps it is seeding and propagating itself still.
Saxifraga cespitosa grows in a few places in Scotland and in Cwm idwal in Wales. It is absent from the rest of the British Isles.
LHS: Cwm Idwal, North Wales 30th May 2008 RHS: Cwm Idwal, North Wales 24th May 2004
Added on 3rd February 2005, updated 29th Janury 2012