Sedum rosea Roseroot C DD N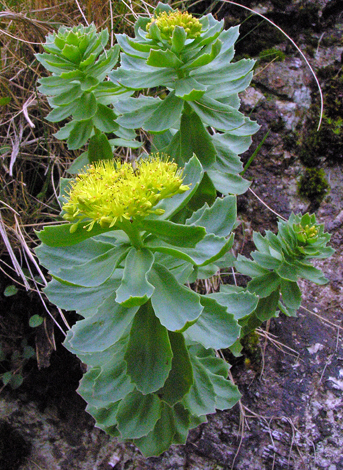 Growing in mountains Sedum rosea is an indication that the position may be the beginning of the height where other alpines are found. However it will also grow at low levels on sea cliffs particularly in Scotland. The unusual common name comes from the fact that if you cut the main stem or root it has the scent of a rose. In Wales one of the old names for this plant is The Snowdon Rose and even today it is still used for perfuming oils or for making your house smell nice with a pot pourri.
Sedum rosea can be found in Snowdonia or the Brecon Beacons in Wales and in England in the northern hills but otherwise it is rarely found in England or Wales. In Scotland it is common particularly in the west and you would expect to find some on most hills. It is found on the far western coastal hills and cliffs in Ireland.
LHS: Cliffs of Twll Dhu, Cwm Idwal, 1st June 2002, RHS: CWM Idwal 7th June 2005
Added on February 3rd 2005, updated February 3rd 2012