Senecio x albescens Hybrid Ragwort I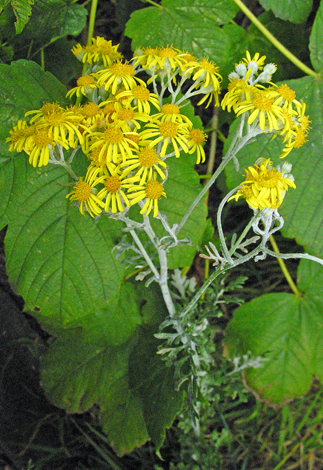 This fertile hybrid between Senecio cineraria (Silver Ragwort) and Senecio jacobaea (Common Ragwort) is dotted around in roughly the same places as the rarer parent Senecio cineraria. The flowers are much more like Senecio jacobaea but the leaves owe their greyish colour to Senecio cineraria. It isn't always that easy to identify as the fertility allows back crosses.
Senecio x albescens tend to be concentrated around populated areas where the gardens and parks containing one of the parents Senecio cineraria would be found. So it is found around most cities in England, the central industrial belt in Scotland plus the Inverness area and around Cardigan bay plus North Wales. In Ireland it is mostly found in county Wexford.
Roadside St Helens, Merseyside 18th July 2005
Added on November 28th 2005, updated 7th February 2012