Viola x ritschliana Hybrid Violet (RRR) DDD N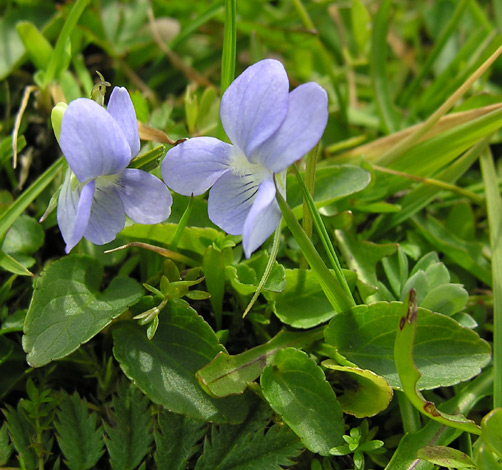 Hybrids are usually difficult to identify because they can have features much more like one parent than the other. This hybrid grows in a drier zone just above the Lough edge zone where Viola stagnina (Fen Violet) is found. It has flower totally more like Viola canina (Heath Dog Violet) which is what Stace suggests. The leaves are too long for Viola canina but other than that and the fact that it grows quite close to water, it does look remarkably like Viola canina.
Hybrid vigour seems to be present too, as there are many more of the hybrids than of the Viola stagnina parent.
There is even less of this hybrid recorded in the British Isles than the parent Viola stagnina so I have assumed the very rare status of this plant.
Edge of Lough in County Clare, Ireland, 21st May 2005
Added on 26th May 2005, updated 24th February 2012