Doronicum pardalianches Leopard's-bane C DD I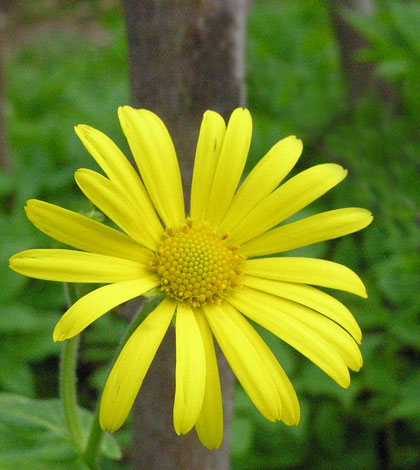 This plant is very effective for I didn't see a single Leopard prowling the verges of the A64 to York in 2005. There were several patches of Doronicum sp which could be seen from the car but you need a hand lens to distinguish the short/long glandular hairs and a good perusal of leaf shapes to separate the different species of Doronicum. In the grounds of Huntly castle (Scotland) in 2008 the plants were just beginning to flower and this was the only one with a fully formed bloom.
D. pardalianches has been naturalised throughout England and much of Scotland but the high concentrations tend to be eastern. It is not common in west Wales and is rare in Ireland.
LHS: Verge of A64 to York April 27th 2005 RHS: Huntly Castle grounds 3rd May 2008
Added on April 28th 2005, updated 13th December 2008, updated 28th March 2010