Epilobium fleischeri Alpine Willowherb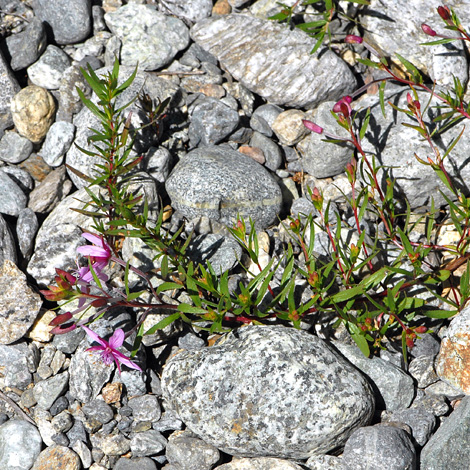 This delightful alpine plant is native to European mountain regions and to nearby mountain ranges such as the Carpathians. It typically colonises acid gravels near rivers particularly after the retreat of a glacier. It immediately reminds you of Chamerion angustifolium (Rosebay Willowherb) but unlike that tall and ubiquitous weed, is very short, often growing procumbently on stony ground next to a river with flowers disproportionately large for such a small alpine.
It is believed to contain chemicals which enhance skin condition and so has been made a component of some cosmetic creams. They are reputed to close skin pores, reduce inflammation and reduce the production of sebum which gives some people greasy skin. Does it work? No idea but the photos of smooth skin next to Epilobium fleischeri look really convincing.
River gravel near Pontresina, Engadine, Switzerland, 7th July 2010, updated 21st July 2013
Added on September 17th 2010, updated 21st July 2013