Galanthus nivalis Snowdrop C DD N?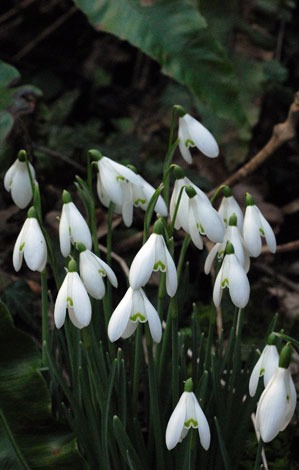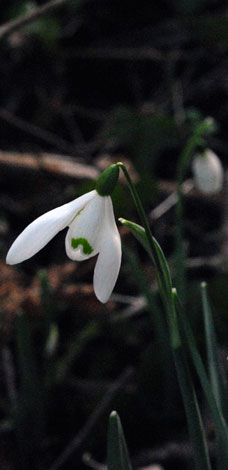 The two plants which herald the Spring in the British Isles are, to me anyway, Eranthis hyemalis (Winter Aconite) and Galanthus nivalis (Snowdrop). Neither is definitely a native although the Snowdrop possibly is in Mid Wales according to Stace. The Snowdrop if not a native plant it has certainly been around for some time because it has populated some very old woods in large drifts and is very common in any wooded area in the Borders of Scotland.
In the South of England wholesale flowering of Snowdrops is sometimes reported in January or even December by those who haven't realised that some varieties have been created to flower early. The ordinary G. nivalis is really a February flower creeping into January with the advent of warmer winters. The double variety "flore pleno" also escapes into the countryside as the photo on the RHS shows.
Galanthus nivalis is found commonly throughout England, Wales and southern Scotland but is less common in northwestern Scotland. In Ireland it is common only in the east.
LHS and middle: Cilygroeslwyd, North Wales 2nd February 2007. RHS: Milnethorpe Lancs 2nd February. 2005
Added on Nov 30th 2004, amended 14th Feb 2008, updated Jan 18th 2009, updated 31st Mar 2010, updated 5th Feb 2015