Grevillea leucopteris White-plume Grevillea Endemic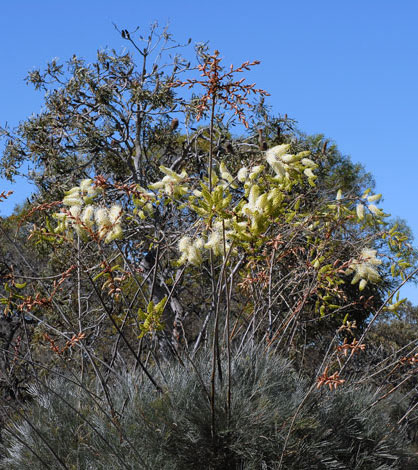 There was a great deal of this shrub by the side of the roads leading in and out of Kalbarri as well as on the Brand Highway from Geraldton onwards and this coastal strip is where most of it is to be found.
At this time of the year most of it is in bud with the distinctive brown buds easily seen from the car. All the shrubs we saw were over 4m tall and only the flowers at the top were beginning to show. This must make a spectacular sight from late September to October but its quoted flowering period is very long: from July to December.
LHS: Verge of Brand Hwy nr Kalbarri 10th Sept RHS: Verge rd to Kalbarri 9th Sept 2007
Added on 22nd November 2007, updated 30th January 2009, updated 2nd April 2010, updated 18th January 2013