Grindelia stricta Coastal Gumplant C D I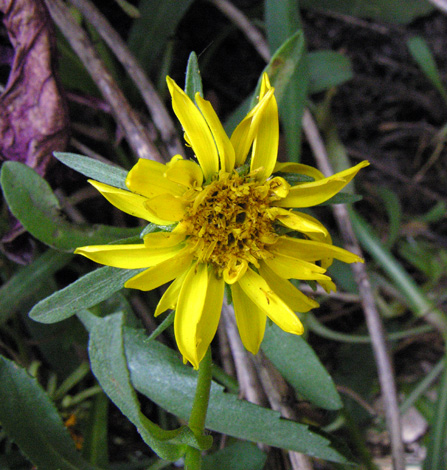 This introduction from North America flourishes in an unlikely habitat - right in the busiest part of a a seaside resort on the cliffs. There are quite a few healthy looking plants on this site (there are three sites all close together in the same area according to the Atlas). The flower is a few centimetres across and at first looks a bit like a dandelion lurking in the shrubbery. There were very few in flower at this time of year and this one was just behind a bench on which bemused holiday makers sat while various crazy botanists ducked down to take a photo.
The coast around Whitby is the only place this plant grows in the British Isles but it is very easy to find.
Cliffs in centre of Whitby, 11th June 2005
Added 13th June 2005 updated on February 1st 2009, updated 2nd April 2010