Hakea laurina Pincushion Hakea Endemic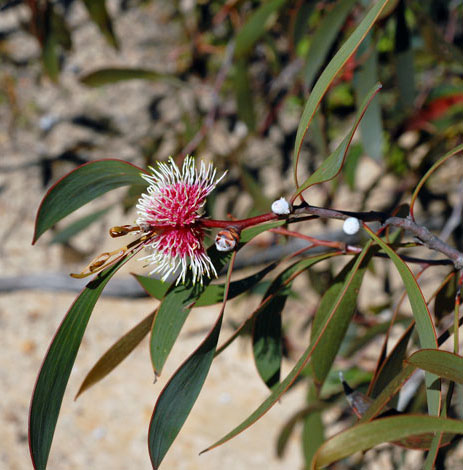 This shrub is endemic to the Western Australia and most sites are on the southern coastal strip of south west Australia near Albany so this one, not far from the Moore reserve on the western coastal strip, is some way from the main population.
When I first caught sight of this I photographed it believing it to be a low flowering Eucalyptus! The leaves are supposed to be reminiscent of a laurel bush hence the species name laurina. It was certainly one of the the most spectacular Hakea species we saw on our various botanical forays in the six weeks we explored the Western Australian springtime.
Western flora caravan park reserve, off Brand Highway, Western Australia 10th September 2007
Added on 12th December 2007, updated 2nd February 2009, updated 3rd April 2010, updated 28th October 2016