Hakea lissocarpha Honey Bush Endemic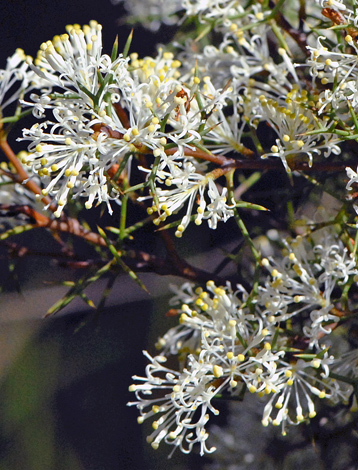 In the species name lisso means smooth and carpha a scale or in this case involucral bracts (near the flower) which are always smooth or, in other explanations of the etymology, carpha means dry referring to the fruits. Take your pick, I can't get a definite answer.

Other English names include Duck and Drake Hakea but it is known as Honey Bush because of the sweet scent of the flowers. Flowers can be white, yellow or pink and it is often associated with forested regions such as those where these were found.

Hakea lissocarpha is one of the commonest of the Hakea genus occurring throughout the south west from Geraldton to Israelite Bay both near the coast and inland through the Wheat belt.
LHS: Nr Rooney's Bridge, SW Hway, Western Australia 9th Aug. 2012 RHS nr Yornup 25th Aug. 2012
Added on October 28th 2016