Hippocrepis comosa Horseshoe Vetch C DD N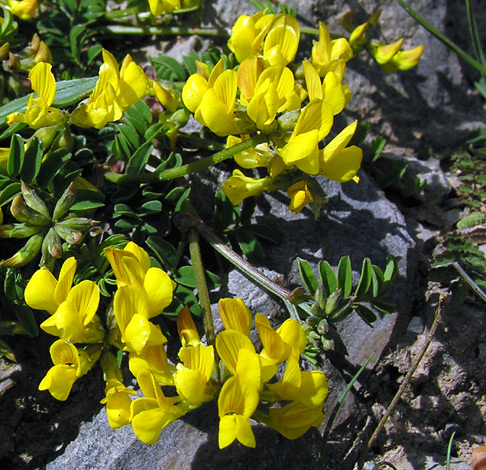 I was about to pass a huge patch of what I thought was Lotus corniculatus (Bird's-foot Trefoil) when it occurred to me that it was just a bit early for such a large amount in full flower and I should take a closer look. Although froma distance the flower colour is similar to that of L. corniculatus, close up you can see the quite different shaped leaves and habit of the plant. It likes dry limestone habitats which exactly describes the rocky cliffs on which it thrives here. It can also flower very early. In 2009 it was in flower on March 3rd after a harsh winter too.
The largest numbers of sites for H. comosa are to be found in the south of England and on the land nearest the Needles on the Isle of Wight for instance, it covers the cliff top turf in yellow. It can be found on the limestone of northern England but there is little to be found in Wales, and none in Scotland or Ireland.
Great Orme, North Wales, May 5th 2005
Added on May 6th 2005, updated 8th April 2009, updated 7th April 2010