Hippophae rhamnoides Sea Buckthorn C DD N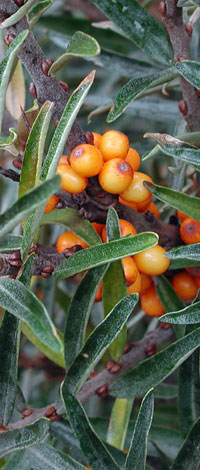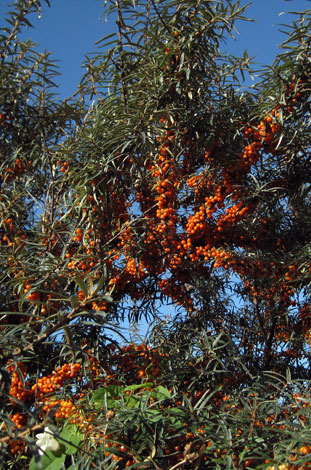 This shrub makes an excellent deterrent hedge and is planted widely as well as being self-sown around Britain. It is native on the East coast and at Spurn point near Hull for instance, it has spread rapidly over the last 20 years or so. It has long stiff spines and forms dense thickets like bramble. The photographs show the fruit because the flowers are possibly the smallest of any plant in the UK. I always have to have my magnifying glass out even to see if this early flowering shrub is actually flowering or not.
H. rhamnoides is mostly coastal and is found around nearly English coasts, much of the Welsh coast and in Scotland except for the north and north east (Aberdeenshire) coasts. It is found more on the eastern Irish coasts than the west.
LHS: Southport 28th April 06, Mid: Red Rocks, Wirral 29th Sept 06, RHS: Great Orme 08 Oct 09
Added 8th April 2009, updated 8th October 2009, updated 7th April 2010