Hyoscyamus niger Henbane C DD N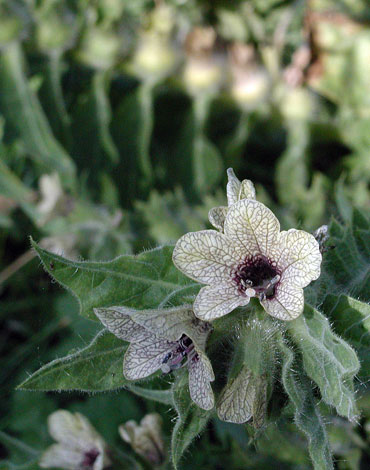 I first saw this plant on Walney Island South where it grows amongst the seabirds. I could not study it very closely as the gulls had to be kept at bay with a stick - they nest all round the footpath. Famously quoted in a recent chef's book as making a tasty addition to salads it should be noted that it is actually poisonous in all its parts and that probably great chefs don't make the best field botanists.
It is found mostly in England where it is not uncommon but was recorded far more often fifty years ago than it is today. It is more likely to be found at the coast and in Scotland in the east. In Wales it is rarely found in the hilly interior and is only dotted here and there in Ireland.
Side of footpath leading up to West Great Orme, North Wales 5th September 2004
5th September 2004, amended on January 27th 2005, January 29th 2006, updated April 12th 2009, updated 7th April 2010, updated 19th Nov 2014