Hypochaeris glabra Smooth Cat's-ear R DD N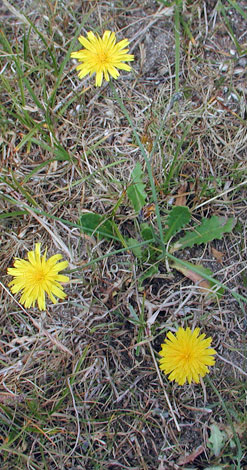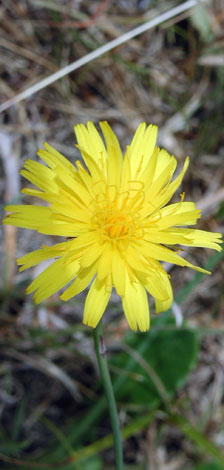 Quite a few regional floras claim that H glabra (Smooth Cat's-ear) can be found their region but I reckon it is over-recorded for balding specimen of Common Cat's-ear. Often it really isn't a lot different from H. radicata (Common Cat's-ear) but H. radicata has leaves which are quite distinctly hairy while they are glabrous (bald) in H. glabra. Also to me the flowers appear a little lighter yellow and a bit smaller but I doubt that is diagnostic.
Commonest in eastern (E. Anglia) and south east England, H. glabra is dotted about in the rest of central and northern England. In Wales it is found around the borders and some coastal regions but not in the centre and it is scarce in Scotland and Ireland. It is common in the Channel Islands where this one was photographed.
L'Ancresse Common, Guernsey, 18th June 2004
Added on Sept 9th 2004, amended on Jan 27th 2005, updated Dec 17th 2009, updated 7th April 2010