Isopogon anemonifolius Drumsticks Endemic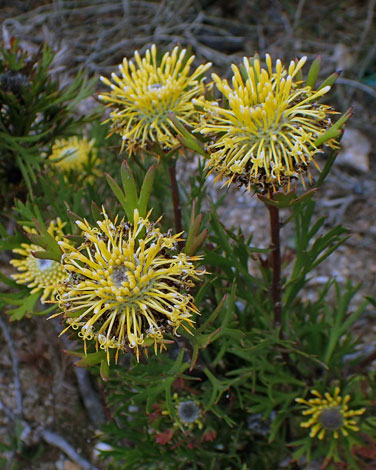 Obviously to me this was a Cone flower (Isopogon sp) but unusual in my experience because most of those I've seen in Western Australia have been purple, greyish or pink while this one was a distinctive mid yellow. The stalked leaves are usually a few millimetres wide and this what distinguished them from the otherwise similar Isopogon anethifolius (Narrow-leaf Cone Bush) which is also yellow and grows in similar habitats.
The 35 Isopogon species are par of the Proteaceae family and are endemic to Australia. This one is endemic to a narrow band of eastern Australia centred around Sydney.
Heathland habitat in Blue Mountains, near Sydney, Eastern Australia 21st October 2015
Added on November 7th 2015