Lychnis alpina Alpine Catchfly RRR DDD N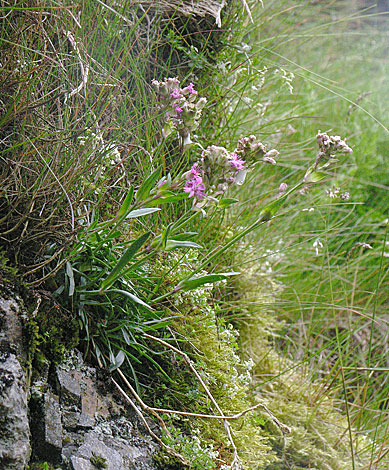 Mid June was too early for this plant and now in July all plants except this one had finished. It grows in deepest Angus in large numbers and this is the only other native outpost which seems to have only a few plants.Lychnis alpina seems to need rocks rich with heavy metals. The theory is that these metals are toxic to many plants and so it reduces the competition. That's the theory but look at photo to see whether Deschampsia sp. and Galium spare at all put off.
I counted only four plants at this site but they are difficult to see unless flowering and are on ledges in a gully full of scree. In addition the weather suddenly got worse and I had to put on full wet mountain gear only to remove it shortly after when the full summer sun came out.
Re-directed to Silene suecica.
Lake district crag, 10th July 2006
Added on 10th July, updated and re-dircected 7th December 2010