Melissa officinalis Balm DD I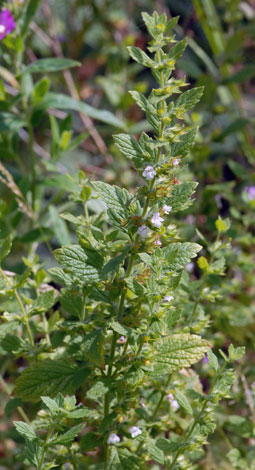 This southern European introduction is a popular herb in gardens and so appears from time to time in odd places in the countryside and on waste ground. Once established it can spread and compete well. The crushed leaves are aromatic and smell of lemon hence its other herbal name Lemon Balm. M. officinalis is reputed to have anti-stress properties and more importantly some scientific studies have shown that it can memory enhancing properties in cases of diseases such as Alzheimer's.
M. officinalis is often found in the middle and in southern England but records quickly diminish as you approach the Scottish border. It can be found in the Scottish lowlands, south eastern Ireland and the flatter or coastal parts of Wales.
Cheshire field, near Alvanley 23rd July 2009
Added on 3rd October 2009, updated 1st January 2011, updated 1st July 2015