Thomasia angustifolia Narrow-leaved Thomasia Endemic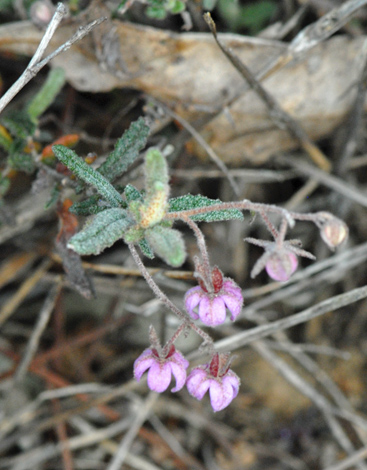 As I photographed this plant at the side of the road somewhere en route to the Sterling Range, I immediately thought it could be a Thomasia species but Guichenotia was also a possibility and I had seen very few of that genus. This is where the wonderful on-line database of the Western Australian Herbarium comes in to help. By putting in the local government district (Shire of Plantagenet believe it or not), it reduces the possibilities. According to these experts there are no Guichenotia species in that area so it is very likely to be Thomasia angustifolia. I can just about make out stellate hairs on the calyx which are another character of this species.
It is found along the coast from near Albany to beyond Esperance and a some way inland as well.
Roadside verge nr Mount Barker, Western Australia 18th September 2012
Added on 14th September 2017