Ulex europaeus Gorse CCC DD N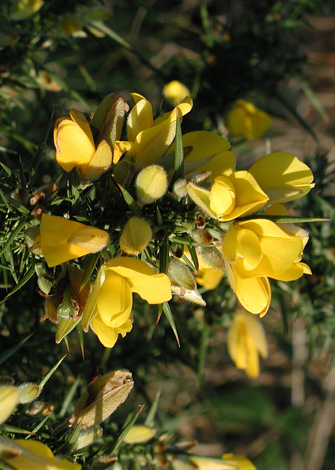 The difference between this plant and Ulex gallii (Western Gorse) can only be discerned with close study of the spines. Ulex europaeus (Gorse) has deeply grooved spines but U gallii (Western Gorse) only has moderately grooved spines! The best differentiating feature however is that Western Gorse flowers in summer and by this time of year is covered in dead seed pods but Ulex europaeus can have flowers as this one has, but also has plenty of buds ready for the early spring when it flowers. Gorse flourishes on acid soil so in Spring the gorse brings banks of bright yellow on our roadside and even motorways here in Cheshire.
Ulex europaeus grows almost everywhere in the British Isles and Ireland. It is found on the Hebrides, Orkney and Shetland too.
LHS: Greta Orme, North Wales 7th March 2007: RHS: Helsby Hill, Cheshire, 30th November 2004
Added on November 30th 2004, updated February 18th 2012