Papaver pseudoorientale Oriental Poppy I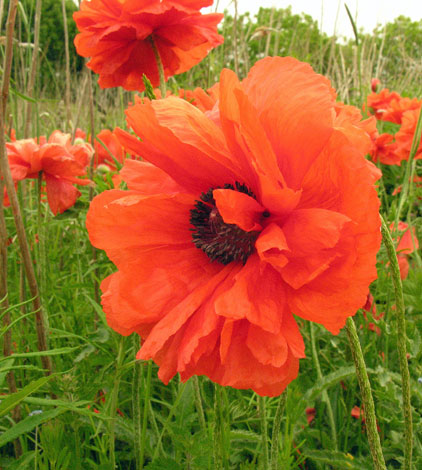 This popular garden plant introduced from Asia, is a genuine perennial in that if planted in well-drained soil will continue to thrive for decades. Plants which I grew from seed over 20 years ago flower just as well as they ever did in my garden. This particular clump of double oriental poppies was competing very well with quite tall herbs in an overgrown patch by the sea not far from Inverness. Because of its preference for well drained soils it is not uncommon in dunes and coastal sandy areas.
P. pseudoorientale is distributed throughout England, Wales and Scotland but is rare in Ireland. The area around Inverness is a stronghold for some reason.
Grassland near Inverness Airport 6th June 2006
Added on 18th October 2006, updated 7th February 2011