Sonchus oleraceus Smooth Sow-thistle CCC D N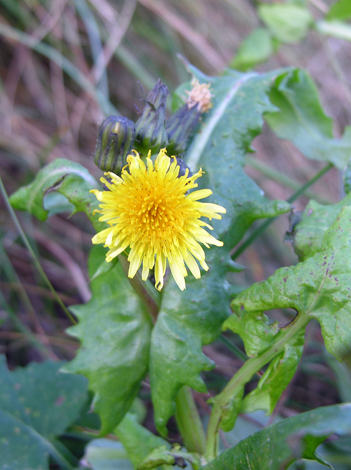 This is referred to as a weed of waste places, pavements, allotments, hedgerows and so on. In other words it is a very resilient and successful wild flower coloniser of almost any habitat in which it is allowed germinate and grow. On a stroll down the road outside our house I would expect to find it at almost every time of year except the harshest part of mid-winter - which is rarely. We hardly have any snow in this part of West Cheshire and until 2011 (minus 12 Celsius) very few frosts either.
Sonchus oleraceus is common throughout England, Wales, Ireland and southern Scotland but is found less frequently than Sonchus asper in the hills of the north. It is found in the outer islands of Shetland and St. Kilda.
LHS: Helsby, Cheshire 29th September 2004 RHS Llandudno west shore 13th January 2005
Added on December 18th 2004, updated 9th February 2012