Waitzia acuminata Orange Immortelle Endemic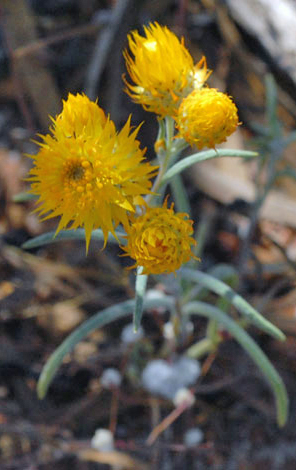 The papery feel to these annual plants gives them the vernacular name: Everlasting flowers. Nothing could be further from the truth for these are spring ephemerals which will have disappeared without trace by summer. They appear the following year only if conditions, usually the right amount of winter rain, are right. In spite of the widespread drought in Australia, this year there were sufficient winter rains in the wheat belt of south west Australia to ensure germination - in their millions. However attractive the individuals are, en masse they are spectacular and well worth a long journey to see. A small area of bush with Waitzia acuminata in bud is shown in the photo above - it is growing with the pink Schoenia cassiniana.
Waitzia acuminata is found across much of western Australia even far out into the scrub/desert past Kalgoorlie.
LHS: Talgomine Reserve 13th September 2007, RHS: verge near Kalbarri, Australia 10th September 2007
Added on 30th October 2007, updated 25th February 2012